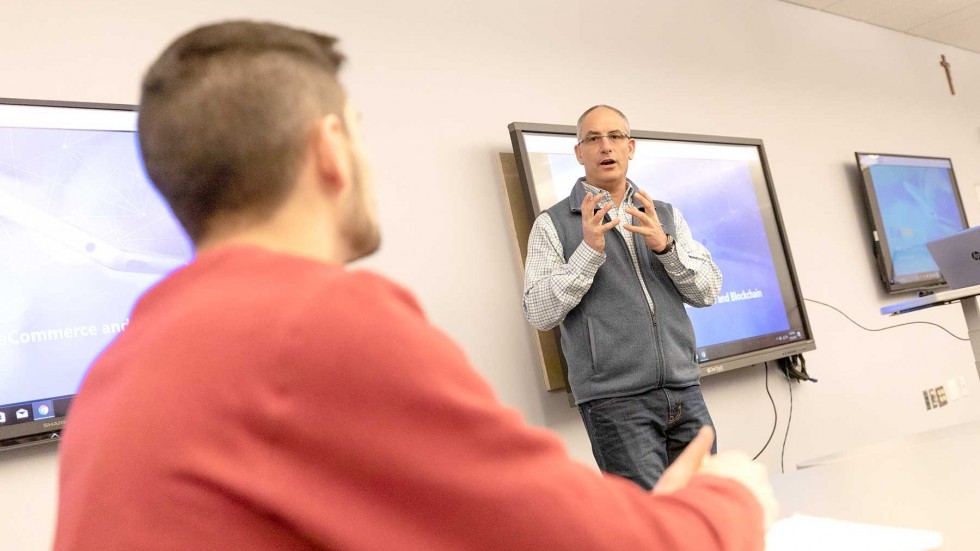 Stonehill at Forefront in Connecting Undergraduates with Emerging FinTech Field
Stonehill is one of only a few schools in the nation offering financial technology programming to undergraduate students in an effort to better prepare them to lead in a global market and to take advantage of an explosive new field.
Rachel Scibek '19 knew Fundamentals of FinTech – Stonehill's new financial technology course – would provide knowledge and skills that would give her a competitive career advantage. "I try to do things that make me stand out," said Scibek, adding that her choice in majors – finance and sociology – is also designed to give her an edge in the finance industry.
Stonehill College and the Leo J. Meehan School of Business recently introduced the course as part of a campuswide effort to connect students with learning opportunities that will better prepare them to lead in a global market and to lead cross-functional teams. It is one of the few schools in the nation to offer financial technology programming to undergraduate students.
Students will look at developments in the field and explore different aspects of the industry, including how it will affect:
Currency.
Investments.
Insurance.
Startup financing.
Information security.
Government regulations.
Financial inclusion.
Technologies such as blockchain, artificial intelligence and cloud computing.
The course focuses mainly on how the finance industry uses technology as opposed to creating that technology.
"This is one of the fastest-growing fields in the financial sector," said Sisli Ciamarra. "Anything that our students will do in a few years will touch upon the new technologies that are being developed now or the next versions of them."
Enormous Potential Fueled by Stonehill's Melding of Business and the Liberal Arts
A central tenet of a Stonehill education is providing students with the intellectual flexibility to pivot their career and capitalize on changing markets. Fueling that flexibility is the College's emphasis on the liberal arts and interdisciplinary programs.
"An interdisciplinary education provides you with skills that a strict business education doesn't provide, things like communication skills, critical thinking, leadership, creativity and collaboration," said Debra Salvucci, dean of the Meehan School of Business at Stonehill. "Our students are adaptable and flexible in the workforce because of their liberal arts background."
Ralph Dangelmaier '88 is a prime example. The Reading, Massachusetts, native is the CEO of BlueSnap, an online payments technology company that serves e-commerce merchants worldwide and is on the cutting edge of the FinTech industry. BlueSnap was honored with the 2019 Breakthrough Award for "Best B2B Payments Company."
Dangelmaier says he created his own FinTech major by studying engineering at Stonehill before ultimately graduating with an economics degree. This intersection of the two fields, he says, encouraged innovation and allowed him to excel in his field.
"Because of my background, I can sit with engineers at the company, and maybe I don't understand the coding of Java, but I get the logic behind it. I understand what they're thinking about, and I don't think I would have been able to be a CEO without this."
"It's this idea of broadening horizons that is most important," says Dangelmaier, who is also a visiting lecturer for Fundamentals of FinTech.
"Students who take this course may never do anything with FinTech," he continued. "But they'll be stronger because they've learned more than just their major."
A Unique Educational Opportunity in a Field Seeing Explosive Demand
As the industry continues to grow, the demand for FinTech skills increases.
"Financial institutions realize the power of FinTech," said Sisli Ciamarra. "They're either acquiring FinTech companies or they're opening up their own departments because the consumers are demanding it."
But students across the country aren't graduating with the skills needed to pursue a career in FinTech.
According to the Future of Jobs Report 2018, the amount of task hours performed by computers is expected to increase by 13% by 2022. The report also identifies a 74% skills gap in the labor market, reaffirming the need for our students to leave college with at least a basic working knowledge of how financial technology works.
"It's hard to find people who understand the intersections of financial technology and marketing. Somebody is always missing some skill," said Dangelmaier. "That gap is an opportunity for students trying to do something with their career."
A look at the curricula of top 100 business schools shows that only one school offers a minor in FinTech, two offer concentrations and 11 offer a course in FinTech. With the addition of Fundamentals of FinTech, Stonehill will be a pioneer in the undergraduate space to incorporate this fast-growing industry into its curriculum.
The College plans to add more courses, including FinTech Applications Using Python (a programming language) and a FinTech capstone course.
"Our hope is next year, we will be able to offer our students a minor or concentration in FinTech," said Sisli Ciamarra.
Stonehill has also identified educational coursework in FinTech already present across the College, including courses in programming, behavioral finance and database applications, which will allow students to enter this emerging field with the proper knowledge and skill set.  
How will YOU be bold?
This campaign enables all of us TO BE BOLD. Here are a few ways you can take action:
Questions?
To schedule a conversation about how you can support the Campaign, please contact us.