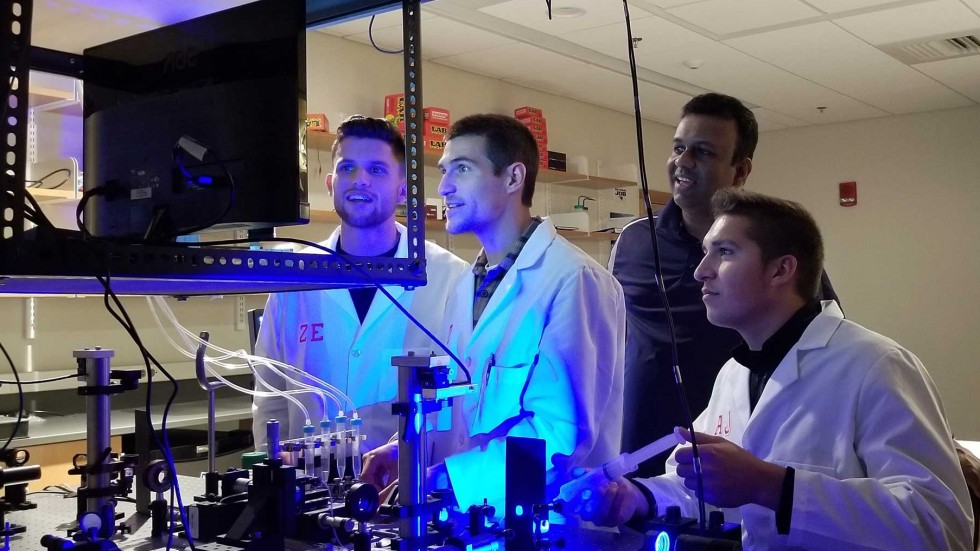 Six Key Features of Stonehill's Integrated Photonics Program
Through a premier academic program and a state-of-the-art laboratory, Stonehill is continuing to create a dynamic hub for integrated photonics education in Southeastern Massachusetts.
Below are six things that define integrated photonics, which uses light instead of electricity to transmit and process information, at the College today.
Partnerships
MIT's AIM Photonics Academy chose Stonehill professors Ruby Gu (physics) and Cheryl Schnitzer (chemistry) to help establish and lead the program, which started in September 2018. Under their leadership and vision, that partnership has grown to include Bridgewater State University, secure major grant funding and expand education and career opportunities for students.
Expanded Offerings
The College now offers a Bachelor of Arts degree, a minor, and a certificate program in photonics. Future possibilities include--BS, engineering degrees, and masters-level programs. 
Technician Certificate
Launched in May, the Advanced Manufacturing and Integrated Photonics (AMIP) technician certificate program is geared towards traditional and nontraditional students, including veterans and those in industry seeking photonics training. 
Administered by Stonehill in partnership with MIT and BSU, this 15-month, 27 credit program offers evening classes online and in-person, hands-on lab experiences at Stonehill and BSU and an MIT bootcamp. Next summer, when the inaugural class graduates, manufacturing companies specializing in integrated photonics will seek to hire the program's 15 graduates for their expertise in a technology that is revolutionizing data collection and transfer.
Research Lab
Stonehill received a $2.4 million Massachusetts Manufacturing Innovative Initiative two-year grant, which started in October 2019, to purchase equipment for an AIM Academy LEAP @ Stonehill College, with BSU, which received $1.4 million. LEAP means Lab for Education and Application Prototypes.
Opened recently in Easton's industrial park, the lab is equipped with state-of-art instruments focused on material characterization and high-speed photonics testing. Materials are critical for high performance devices. Comprehensive material characterization will enable enhanced device performance, improved device yield, and will avoid long-term device and system failure. Stonehill's material characterization capability is not only limited to Photonics materials but could be applied on Chemistry, Biology, Polymer Science, Microplastics, Pharmaceuticals, Gemstones and geology and more. 
Big Advantage
There are only three AIM Academy LEAP facilities in the country—MIT, Stonehill/BSU, and Worcester Polytechnic Institute/Quinsigamond Community College. As a result, Stonehill is now part of a wider and prestigious photonics LEAP ecosystem, a big professional advantage for our students.
Faculty Vision
The vision and determination of Professors Gu and Schnitzer have really made all this happen. They have worked tirelessly to build relationships across industry and academia in the Commonwealth and they are integral to the continued development of Stonehill as a major player in Southeastern Massachusetts becoming a photonics hub.
How will YOU be bold?
This campaign enables all of us TO BE BOLD. Here are a few ways you can take action:
Questions?
To schedule a conversation about how you can support the Campaign, please contact us.